This is my favorite main course item of all time! Baked salmon is such a treat because it is so healthy and tasty! I season the salmon the night prior with fresh squeezed lemons, salt, pepper and a little water.
Directions:
Grease the baking pan with olive oil.
Add the seasoned salmon & squeeze another lemon across the top prior to baking.
Bake at 350 F / 175 C for 25 minute.
Garnish with a twirled lemon wheel and/or parsley sprig.
** This pairs well with nearly any side. In the featured image above you will see broccoli and home-made french fries. The image below is paired with pasta and Alfredo sauce.
Don't worry… I did NOT eat all that salmon. This was for all three of us! LOL! 🙂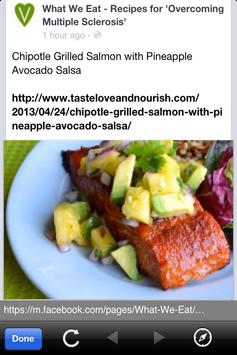 The OMS website also has salmon on their list of menu items. I have not tried it this way yet, but I do plan to because it looks delicious. I have, however, paired salmon with fresh grapefruit, and I have always found it enjoyable because the flavors of the salmon pair well with citrus. So, I am sure that this tastes just as good… if not better.
Do you like salmon? Or.. any other kind of fish? Did you know that salmon has such great health benefits for you? It has a source of omega-3 fatty acids and vitamin D which help many people including those who have Multiple Sclerosis.
Thank you for reading. I hope that you enjoyed this post and the benefits that salmon offers you. Please let me know what you think.
Christy 🙂